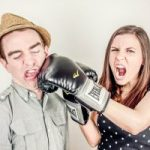 Early in my credit career, I was taught: beware of sales. I was told, "You can make a good sales guy out of a credit guy, but you can never do the reverse."
Perhaps these beliefs were due to the stereotypes we had of each other. Just looking at them I could differentiate the sales guys from the credit guys. The salespeople seemed to always be smiling, even laughing loudly sometimes. They dressed better than us plain credit folks. They had larger expense accounts and drove company cars. Although they looked better, most of them were more disorganized than the average credit guy. They called us "credit geeks" and we called them "sales jerks." It felt like my old high school days with the nerds vs. the jocks.
Rise of the Ambiverts
But, after working with a few organizations, I find that the sales and credit relationship, while sometimes in conflict, doesn't have to be adversarial. In fact, many sales and credit departments are morphing into one another. The most successful salespeople tend to back up their mouth with detailed actions and follow-up. Dan Pink in his book, "To Sell is Human" calls such people 'ambiverts'. He shows how the highly extroverted and introverted salespeople are 'out-sold' by ambiverts.
To be successful in sales, your mouth alone can't do it. Salespeople need to be updated in the field with the latest product changes, customer balances, credit approvals, and detailed CRM patterns on what their customers are buying.
And top credit professionals need to back up their detailed follow-up skills with excellent communication and negotiation skills. We too need to become 'ambiverts'. We need to get out of the office and meet clients. We need to give credit talks to all our largest clients to prevent future bad debt surprises. We need to get involved in disputes, often about price, quality or delivery.
So, as salespeople are becoming more detailed, the credit people are involved in servicing the account in order to collect the money. The line between "us" and "them" is blurring.
Both fields require the same skills. Both require convincing a person who does not want to do something to do it and be happy he/she did. Both sell customers on the benefits of paying on time or buying the product.
Although the lines are blurring, many of us still see two opposing camps. This is unfortunate—especially if corporate accounts are a large percentage of your total outstanding debtors. Try collecting corporate accounts without sales support.
Reducing 'Office Fog' between sales & credit
Usually any adversarial conflict is due to office fog. It's caused by the lack of clear guidance and communication. It causes people to think the worst of each other. Although fog can easily set in any organization, it can also be quickly dissipated.
Here are (9) office fog-clearing ideas to improve sales and credit relations to avoid future collisions at your organization.
1) Write an easy-to-understand credit policy. The source of many sales and credit conflicts is the lack of an agreed-upon, clear, written credit policy. Don't operate with foggy verbal credit policies in people's heads. A clear policy that is jargon-free and written for the sales audience clears a lot of fog. The policy's theme should be a salesy "Let's Make a Deal." Show the sales guys you are not a credit robot employed to reject business. Your goal is to make two types of credit decisions: approved and approved with extra requirements. Finally, ensure the policy includes feedback opportunities and sign-off from the head of sales. Convince the head and the body will follow.

Note: The policy should also include an exception handling process for those decisions where the policy is overridden.

2) Attend each other's meetings. From experience, it can be tough getting salespeople to attend credit meetings. If attendance is a problem, at least meet up with the senior leaders of sales on a quarterly basis.

3) Get out there. It's a common sales complaint that the credit people have no idea what it's like out in the field. Field visits are valuable learning experiences for credit people, but don't stop there. Invite salespeople to collection or repossession visits to learn what happens when deals go sour.

4) Reward salespeople. Nothing gets done with words alone. If you want to change behavior, you need to reward the change. Salespeople are competitive and enjoy recognition. Create a contest to reward the salesperson with the lowest aging or bad debt levels. Post the results. You may find salespeople offering to ask certain customers for payment and pick up checks to improve their contest standings.

5) Pre-qualify key prospects. And do it fast. It is added work, but it shows the salespeople you are business minded.

6) Perform annual credit reviews on your largest accounts. Pre-approve them for credit line increases. Allow the salesperson to advise the customer that due to their good payment history, he/she has had their credit line increased. This also gives them an opportunity to sell more.

7) Create a handy credit requirements checklist that they can use in the field. The checklist details what is required to accept a new submission. It can be a valuable job aid.

8) Train the credit people in sales and the salespeople in credit. Cross-training helps both groups understand how each of their jobs overlap.

9) Communicate. When you are about to place an account on credit hold, or take other drastic action, drop the salespeople a note. When you approve submissions with additional requirements, you need to logically explain why those additional requirements are required to do the deal. Do not be offended if sales guys try to sell you on another alternative—that is why they are in sales.

Let's admit it, sales and credit departments will experience conflict from time to time. The key is to minimize blowups and remove as much office fog as possible. With less fog both departments will see their similarities, and hopefully, work together as corporate allies. Now go collect some money!
[Article just now updated from first published in Business Credit magazine, Sept. 2003]
cover photo credit: pexels.com