Good Boss, Better Boss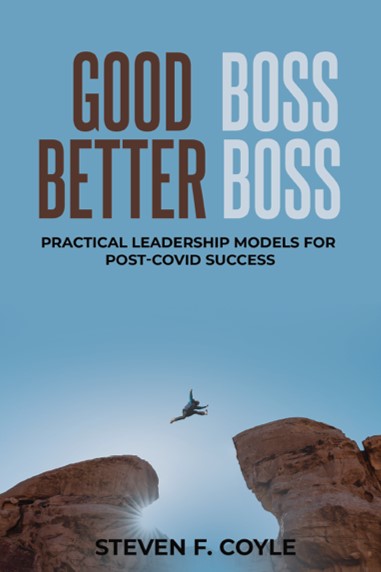 Good Boss, Better Boss shares practical models, examples, and tips to help you and your team succeed in the post-COVID era. Key areas include hiring and retaining your top performers, dealing with poor performance, coaching your people to repeated excellence, and leading remote teams with their unique challenges.
Click here to read Table of Contents & Chapter 1.
Click the book to buy the print version on Amazon…
What others say about the book
"From working in APAC regional organizations, most people change jobs not for better remuneration, but because of their bosses. This book's easy processes and methods will help you become a better boss and win the talent war." ~ Venkateswara Rao, Strategy and Solutions Marketing Director, Huawei Technologies.
"Good Boss, Better Boss is a must-read for leaders who want to improve their workplace or for one's continuous self-improvement to become a better boss." ~ Charles Klever, President, Yukon Equipment, Inc.
"Steve's book is different from others I've read because of his personalized story-telling style. I'm sure the book's anecdotes are similar to what has happened or is happening at your workplace. Refreshing!" ~ Kamal Nawawi, Head, Axiata FastForward.
"Steve Coyle is a masterful storyteller with practical examples. I highly recommend this book for anyone who wants to improve their leadership skills." ~ Rob Wright, CFO, Prescryptive Health, Inc.
Print & Kindle versions: 
For print versions:  Use this Amazon link.
For Kindle versions:  Order your Kindle copy at Amazon.
For Malaysian orders, if you prefer not to use Amazon, call us at 012 2000 998 or email us at steve@servicewinners.com. We ship locally.