Coaching & Calibration for Collection Supervisors
Coaching & Calibratio
n training for Collection Supervisors
Your supervisors play an ENORMOUS role in how much money your debt collectors collect. You want them to motivate, not deflate. When you motivate you also increase your PTPs (Promise to Pays). Debt collectors have a stressful enough job talking to debtors all day long telling them to do something that most of them don't want to do— pay! Don't add another layer of stress on these poor collectors by saddling them with poor supervisors.
In this program, supervisors learn how to score and coach debt collectors on their collection calls. Call Quality is an important KPI that should be measured in any collection department. Too often we focus on quantity (dollars collected) which can result in lots of customer complaints on the style our debt collectors use to collect the money. Supervisors need to coach their teams on collecting the maximum amounts, now (not later); but at the same time ensuring respect for the debtor. The key coaching model used here is the House Model.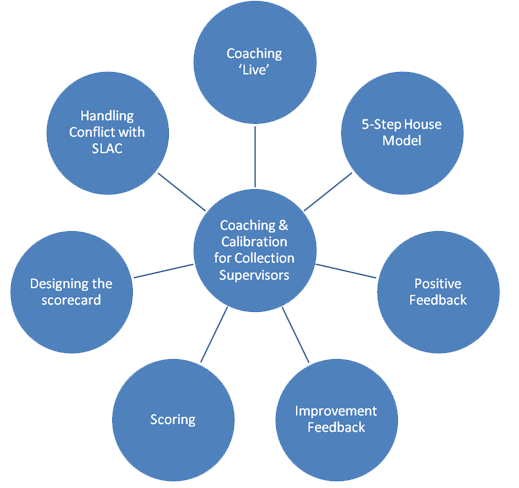 All our programs will be customized to your unique environment.