Products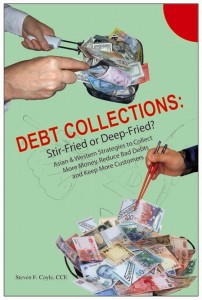 Debt Collections: Stir-Fried or Deep-Fried? Asian & Western strategies to collect more money, reduce bad debts and keep more customers".
A practical, lively book geared for those who need to do credit evaluation or collections. Learn how to write a credit policy, ask for money, write effective collection letters, lead a collection team, request correct user requirements in new collections systems, manage third parties collection agencies and law firms, plus much more.
Click here for the Table of Contents Click here to read Chapter 1.